Investing for the Future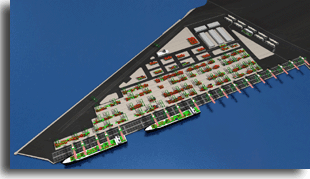 The extension of the quay, the yards and the relevant additional equipment to reach a potential of 2 millions TEU per year are in TCT technical and financial plans.
Besides the Euro 100 millions already invested so far, TCT new investment plans are consequently aiming to:
- Increase the number of shore and yard gantry cranes

- Extend the quay length from the actual 1500m to 2050m

- Expand the container yard size from 250,000m2 to 300,000m2

- Increase the container stacking capacity from 35,310 to 45,000

- Further Deepening to 16,5m the water draft along the quay, the aproaching channel and the turning basis
Apulia Region plays a role in National and Regional Transportation Plans
National and Regional Transportation plans consider Apulia to be a strategically important Central Mediterranean location. This, combined with Apulia's flourishing economy, calls for a number of significant infrastructure developments in regional communications:

- Doubling rail tracks on the Taranto-Bari railways to enhance Taranto's connection with the "Adriatic corridor", linking North and South Europe
- electrification of Taranto-Brindisi railway lines to facilitate increased flow of goods
- Linking the A14 Motorway network to highway 106 "Ionica" Taranto-Reggio Calabria
- Expansion to existing port facilities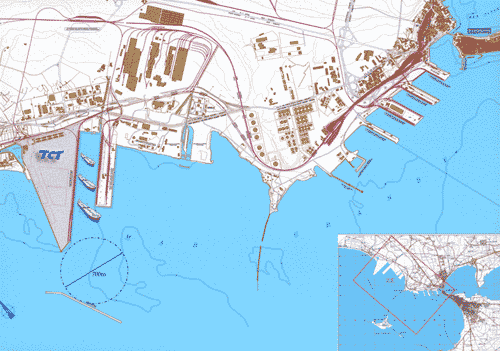 Also Taranto Port Autority is committed to turning its share of national and regional transportation plans in to reality. The vision for Taranto is to become a modern, flexible and international logistic hub. Euro 243 million invested will have been made to implement a number of port infrastructure developments to support increased transportation needs.
-Berth Expansion
Futher expansion up to 2050 metres of quays, berths, landing and mooring sites for commercial activities, in particular Ro-Ro operations.
-Port Facility Upgrades
New internal communications between berths will be created . Plans include 5,5 km of new internal roads and a complete overhaul of the existing internal road system. In addition to improving the Port's Service area, electricity and fresh water supplies, lighting and sewage systems will be upgraded throughout the port.
C.C.I.A.A. di Livorno 8397/1998 C.Fisc. - P.IVA 01247560491